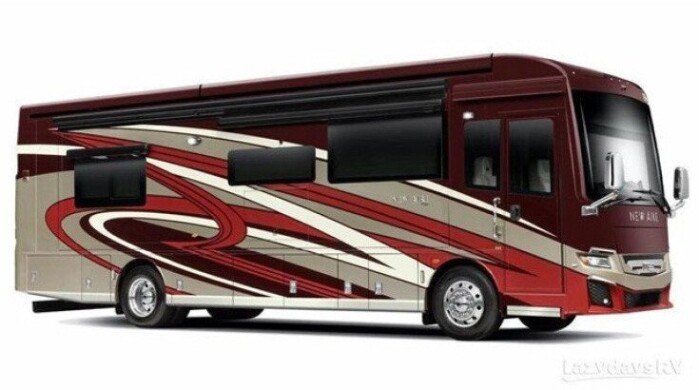 Table of Contents
What is a Class A RV?
Class A RVs are typically large, bus-like vehicles with vertical or gently sloping front windshields. Despite being the largest recreational motorhome class available, you still don't need a commercial driver's license, in most cases, to drive a Class A RV. The only time you'll need one is if the RV weighs more than 26,001 pounds or more. The RV licensing laws differ by state, so be sure to read our RV driver's license requirements article and check with your state's DMV to be safe.
Class A RVs are all about opulence and storage space, as these are the biggest, most expensive RVs you can get. The Class A RV's greatest strength is also its greatest weakness, as its size makes it hard to drive in tight spaces. As a result, Class A RV owners are greatly limited in where they can go with their RVs, so most tow a passenger vehicle behind their RV. Most first-time RVers don't start off driving or owning a Class A RV since it does take time to become comfortable driving such a large motorhome. If you're curious, we've outlined the differences between all the RV classes here. Even within the Class A RV category, you shouldn't compare gas Class A's vs. diesel Class A's since diesel RVs tend to be more expensive than their gas counterparts.
How Long is a Class A RV?
Most Class A RVs can range from 25 to 45 feet in length, typically sleep six to ten people, and often have slide out sections that expand their floor plans, even more, when parked. With this much space, Class A RVs have tons of features, capabilities, and plenty of room for storage and sleeping. There are many different floor configurations available as well. A small Class A motorhome is typically 30 feet in length or shorter.
Class A RV Pricing
How much is a Class A RV? New Class A motorhomes start at $100,000 and can exceed $500,000 more. When we looked at all the Class A RVs listed for sale on our site, the median price range was between $185,000 to $210,000 with most of these being new models. You get what you pay for so a higher-priced class A RV will have a better build quality than a lower-priced Class A.
Although a used Class A RV still can seem expensive, this is where savings can be found. Some used Class A motorhomes can be purchased for under $125,000 and if you're shopping on a budget, you may be able to buy a gently used Class A in the $75,000 to $125,000 price range.
Best Class A RV Brands
Here are some of the more popular U.S. manufacturers of Class A RVs:
How Did We Make This List?
To put this list together, we analyzed and researched numerous Class A RV models, compared various RV reviews, reviewed the OEM's websites, consulted with RV dealers and sales leaders, and gathered feedback from RV owners. This list was based on the following characteristics:
Reviews and ratings
Price and value
Features
Storage
Sleeping space
Fuel economy
Technology
Specifications
Best Overall Class A RV: Coachmen Encore 355DS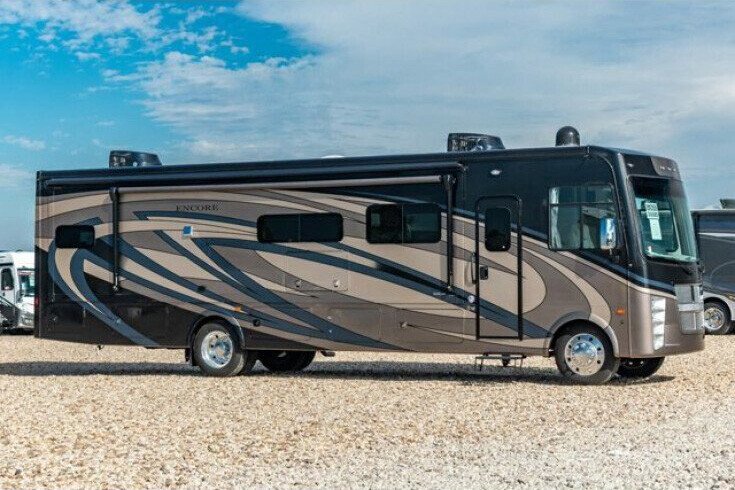 The 7.3L, V8 350hp Coachmen Encore topped our list for best overall Class A RV for 2022 just beating out the Fleetwood Bounder. The two floorplans we singled out for the 2022 model year were the 325SS and 355DS. Both have an 8,000lb towing capacity, partial paint although full-body paint is an option, HD back-up and side cameras, 22.5" tires, integrated side cameras, drop down overhead bunk over the cockpit, skylight over the shower, residential refrigerator, exterior 40" TV, and a king bed.
If we had to pick between the two floor plans, we'd go with the 355DS which measures 36ft and 10", has a 20ft awning and a 5.5kw gas generator. As much as we loved it for the light, we do worry about how the skylight will hold up over the long term and whether it will be susceptible to leaks. Have you ever had a skylight leak in your house? This is an equally big concern in a motorhome.
Coachmen Encore 355DS Floorplan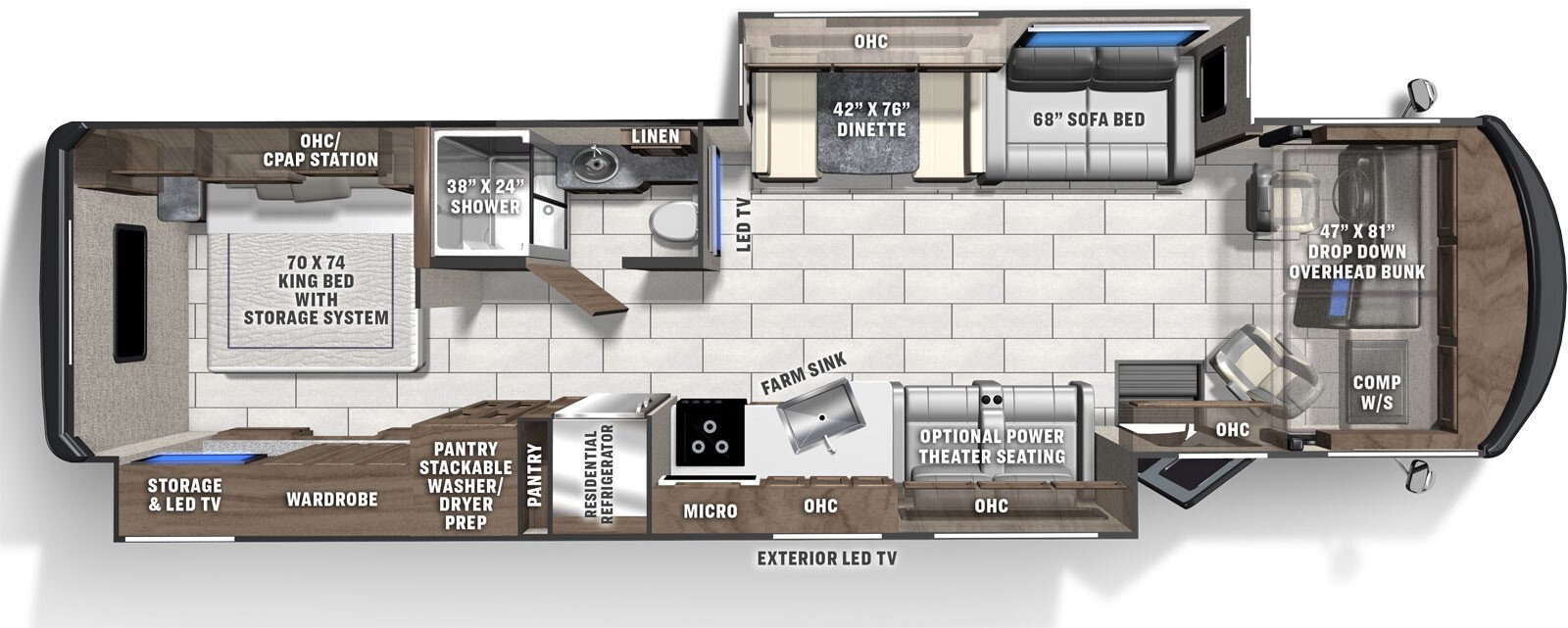 Coachmen Encore Pros and Cons
Pros:
Interior lighting w/ a skylight
Stackable washer/dryer
Great layout
Storage/seat under master bed
Cons:
No televator TV
No black out side shades
No multiplex control
300lb bunk over cab
Coachmen Encore Price
The MSRP of a new 2022 Coachmen Encore 355DS is $215,535 to $230,173 depending on installed options although we've seen them priced as high as $243,811 and as low as $175,000 on our site. A used Encore will cost you between $110,000 to $195,000.
Coachmen Encore 355DS Video Tour
Best Small Class A RV: Fleetwood Flair 28A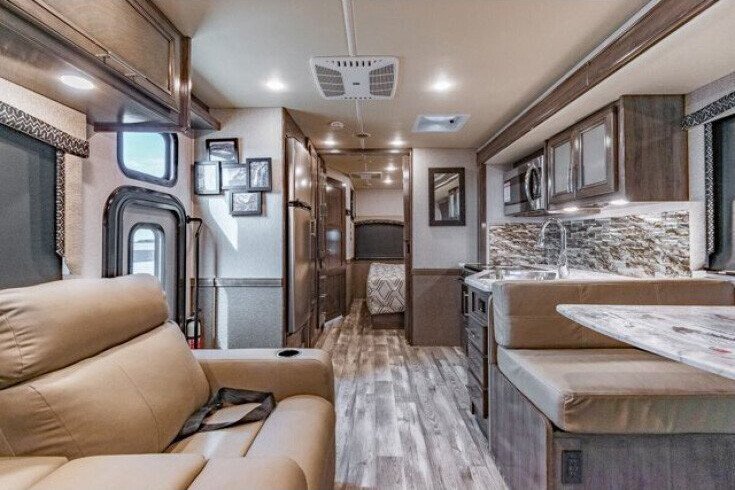 The 2022 Fleetwood Flair (28A) is our pick for best small Class A RV of 2022. We considered only Class A RVs that were 30ft in length or shorter and at 29' feet and 3", the 28A Flair is just that. The Fleetwood Flair 28A layout sleeps up to eight people, has a king-sized bed, an electric hide-a-loft drop down queen bed, a residential refrigerator, an exterior LED flatscreen TV, exterior-mounted sideview cameras and features an open living room layout. The 28A is under the 30ft RV length limit which most state and national parks have.
The 7.3-liter engine produces 350HP and has an 8,000-pound towing capacity. New for 2022, Fleetwood has included an all-new electronic instrument panel and the chassis is a Ford F-53. If there is one knock on the 28A layout, it's that we wish it had an outside kitchen, like the Fleetwood Flair 29M model has. We didn't pick the 29M only on a technicality since it is 31ft long.
Fleetwood Flair 28A Floorplan
Fleetwood Flair Pros and Cons
Pros:
Size (length)
Exterior side-mounted cameras
Great value
Good towing capacity for its size
Cons:
No outside kitchen
Some competitors are cheaper
Small on storage (expected)
Not ideal for full-time living
Fleetwood Flair Price
A 2022 Fleetwood Flair 28A has will cost between $118,000 to $155,000, depending on the options you select. If you're in the market for a used 28A model, we found 2020 model years available for around $85,000.
Cheapest Class A RV: Coachmen Pursuit 27XPS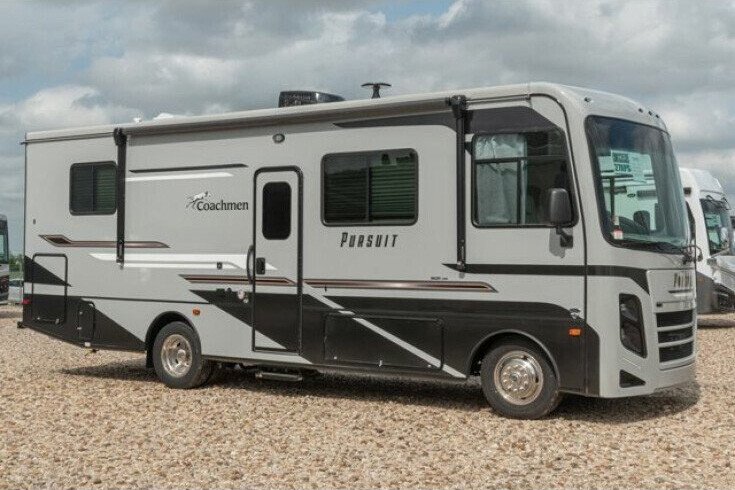 The Coachmen Pursuit (27XPS) just edged out the Thor Axis (24.1) and the Fleetwood Flair (34J) as our pick for best affordable Class A RV for 2022. The Pursuit packs a ton of features into a small footprint and is the only Class A RV on this entire list which does not have a slide-out. The Pursuit is powered by a Ford 7.3L V8 which produces 350HP and has an 8,000lb towing capacity.
The 27XPS has a large electric powered awning with LED lights, exterior propane quick-connect, rear stabilizing jacks, back up camera, 4.0 generator, outside shower, split bathroom, manual bunk over the cockpit, a walk-around queen size bed and a 100-watt roof mounted solar panel. The 27XPS sleeps between five to six people. With a total length of 29ft, this RV can get you into any state or federal park. This RV is worthy of the title "Best Budget Class A RV."
Coachmen Pursuit 27XPS Floorplan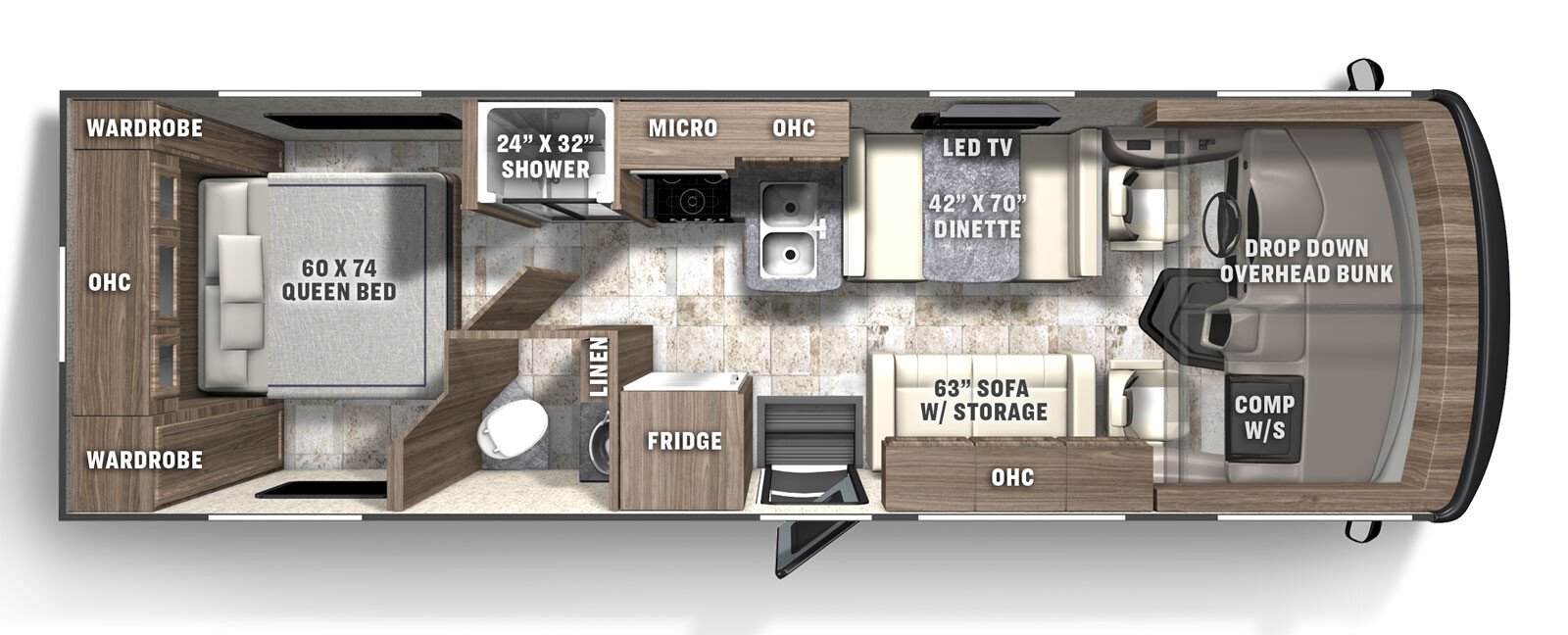 Coachman Pursuit Pros and Cons
Pros:
Tons of storage
Open floor plan
Budget pricing
Walk around queen bed
Cons:
Little counter space
No outside TV
No side cameras
Accordion bedroom door
Coachmen Pursuit Price
We found new 2022 Pursuit 27XPS RVs available for as low as $105,000 and up to $148,000, depending on which options were installed. If you're looking to save money and wish to buy a used 27XPS, we found a few listings priced at $112,000 or less.
2022 Coachman Pursuit 27XPS Video Tour
This is the official video tour and overview of the Pursuit 27XPS Class A coach.
Best Diesel Class A RV: Newmar New Aire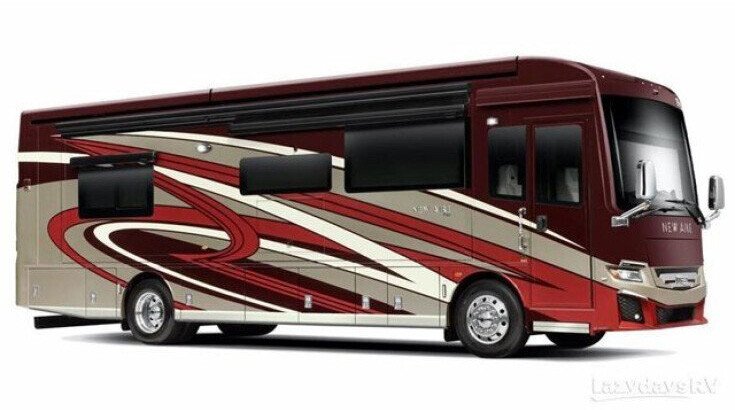 The Newmar New Aire is our pick for best Class A diesel RV. This was a hard choice as the Tiffin Phaeton and the Winnebago Journey were both slightly less expensive and offered some features which made our decision a close one.
The New Aire comes in three floor plans all of which are 35 ft in length and is available in both a freightliner XCS chassis and in an optional Spartan chassis. Both chassis options feature a Cummins 460 HP engine delivering 1,250-pound feet of torque. Newmar's STAR foundation is one of the best in the RV industry and is known for their durability while delivering a quiet and stable ride. There are plenty of chassis service centers across the U.S. and even in Canada should you need it.
We were impressed by the New Aire's blending of comfort, quality, storage, luxury finishes, quiet ride, and technology. The front and rear caps as well as the dash have been completely redesigned for 2022. All three floor plans feature Comfort Drive adaptive steering, independent front suspension, collision mitigation with adaptive cruise control, king-sized bed, and tire pressure monitoring.
Newmar New Aire 3545 Floorplan

Newmar New Aire Pros and Cons
Pros:
Luxurious
High build quality
Finishing details
Amazing bathroom
Cons:
No 33ft version in 2022
Limited availability
Expensive
Options can add up
Newmar New Aire Price
A 2022 Newmar New Aire has will cost between $544,000 to upwards of $623,000, depending on the options you select. We found used New Aire's priced for around $355,000. A diesel Class A motorhome will always cost more than its comparable gas Class A counterpart.
Best Luxury Class A RV: Newmar King Aire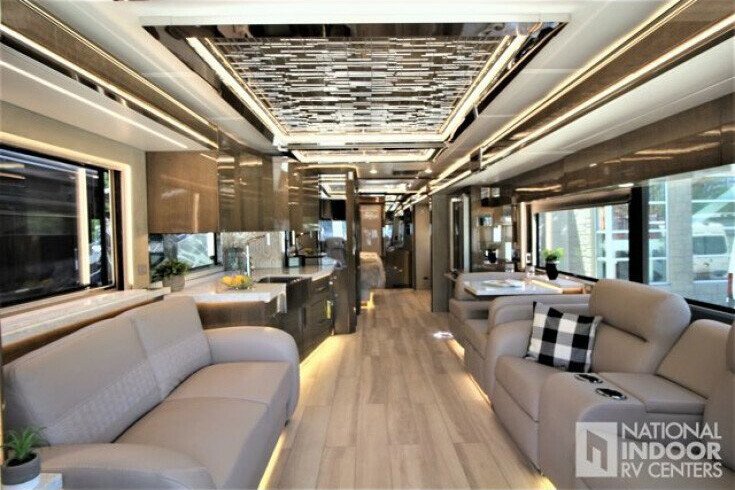 The 44ft Newmar King Aire (4578) barely beat the Foretravel Realm (LV3) as our pick for best luxury, production Class A RV for 2022. This was a tough call and if we could, we'd ideally give this a tie between both these million-dollar coaches. The main reason we didn't name this the best diesel Class A RV was primarily because of the luxury-level pricing.
The King Aire comes in three floor plans all of which are 45 ft in length and is built on a Spartan K3 chassis, with a Cummins diesel engine that produces 605 HP. The STAR Foundation and Comfort Drive steering system ensures that this coach delivers a smooth, responsive, stable, quiet, and safe ride along with Newmar's luxury quality and finishes.
There are so many finishing details and technology features which we love: Italian full-grain leather, heated flooring, powered theater seating with standard heat and optional massage features, a Viking refrigerator, Wolf induction cooktop, a Fisher & Paykel dishwater, mobile eye lane departure warning system, adaptive cruise control, tire pressure monitoring system, collision mitigation system, passive steer tag axle and 360-degree video surveillance system.
Newmar King Aire 4578 Floorplan

Newmar King Air Pros and Cons
Pros:
Technology features
Detailed finishes
Residential-like kitchen
Driver friendly
Cons:
Luxury pricing
Value depreciation
May as well build a custom coach
2 burner stovetop
Newmar King Aire Price
A new 2022 Newmar King Aire Class A RV has a base MSRP of $1,528,208 before options, taxes, and any fees. When we looked at actual King Air listings on our site, we saw several listed for between $1.46 to $1.61 million. If you are considering a used King Aire, we found 2012-2017 model years listed between $290,000 to $500,000.
2022 Newmar King Aire Video Tour
This is the official video tour and overview of the King Aire luxury Class A coach.
Best Class A RV with Bunk Beds: Fleetwood Bounder 36F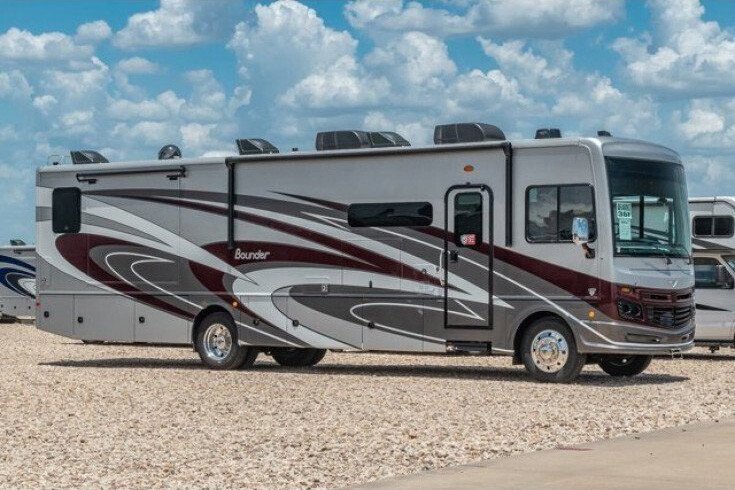 The 38'9", 350-hp Fleetwood Bounder (36F) just edged out the Jayco Precept (36A) and Coachmen Encore (375RB) for our choice as the best Class A (gas) RV with bunk beds. This RV is best suited for a family of four or more due to the numerous sleeping spaces and two full-sized bathrooms. If you have a large family, having two full-sized bathrooms could be key while you're on the road. The Bounder 36F is also known as the Holiday Rambler Vacationer 36F. Prior to the 2019 model year, the 36F was known as the 36H.
Things which we love about the Bounder 36 include the 8,000 lb. towing capacity, side and back up cameras, exterior entertainment area, hide-a-loft drop down bed over the cab, 5.5kw generator with automatic start, tankless water heater, 100W solar panel, skylight in the shower, Apple CarPlay, and the fireplace.
Fleetwood Bounder 36F Floorplan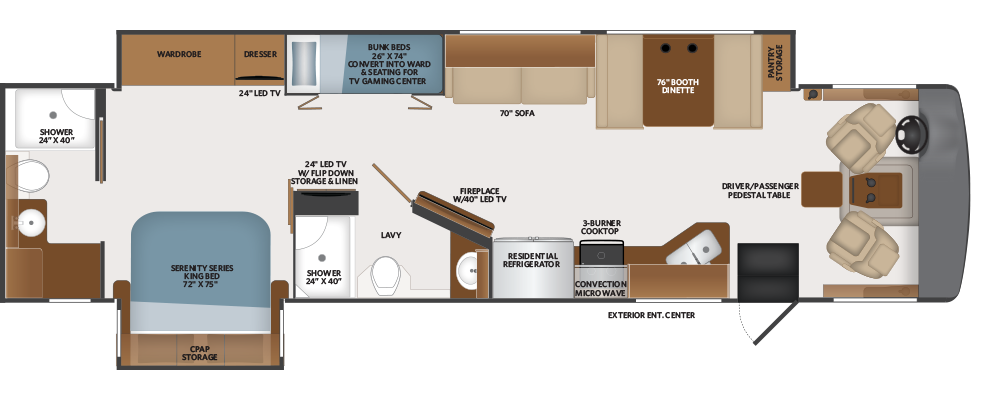 Fleetwood Bounder Pros and Cons
Pros:
Two full-sized bathrooms
Full body paint is standard
Outside entertainment center
Family friendly layout
Cons:
Priced higher than competition
Limited availability
No outdoor kitchen
First shower is small
Fleetwood Bounder Price
The MSRP of a 2022 Fleetwood Bounder 36F has a starting price of $240,000 although we did see some new versions listed on our site for $195,000. Fleetwood's website has the 36F priced as high as $254,803 before any discounts.
If you're looking to save some money, a used Bounder may present an opportunity for some cost savings. This model has been out since the 2019 model year, and we found a few 2018-2019 model years listed for around $130,000.
Fleetwood Bounder 36F Video Tour
As of late July, Fleetwood hadn't uploaded a 2022 walk-through, but this is the official video tour of the 2021 model year.
Best Entry Level Class A RV: Forest River FR3 34DS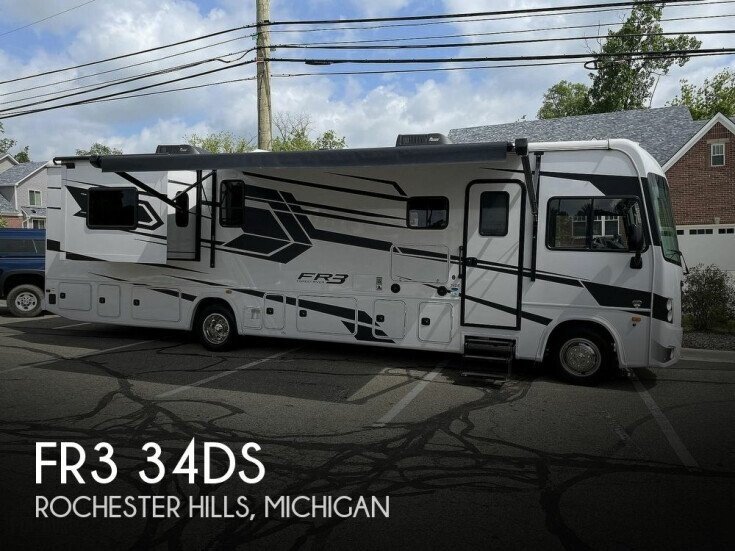 The 35'11", 350-hp 2022 Forest River FR3 (34DS) was our pick for the best entry-level Class A RV. It has a 5,000lb towing capacity, a power overhead bunk bed, standard fireplace, primary king bed, exterior flat-screen TV, a NPS 550 inverter/generator and tons of exterior storage. With sleeping for up to six, theater seating, 4-point auto leveling jacks, 1.5 bathrooms, 3-burner gas cooktop, and a hidden pantry behind the main TV, this Class A RV packs a ton of features into an amazing price.
Forest River FR3 34DS Floorplan

Forest River FR3 Pros and Cons
Pros:
1.5 bathrooms
Large dinette seating
Auto transfer switch
Great kitchen and hidden pantry
Cons:
Not the best bunk over cab
No rear ladder
Downward opening cabinets
Combo washer/dryer is optional
Forest River FR3 Price
The 2022 Forest River FR3 34DS has a MSRP starting at $192,192 but we've seen new 34DS models on our site for just under $173,000. In terms of used pricing, a gently used FR3 should cost between $90,000 and $125,000 depending on mileage, condition, and installed options.
Forest River FR3 34DS Video Tour
This is the official walk-around video tour by Forest River of the FR3 34DS.
Published Aug 10th, 2022
Related Articles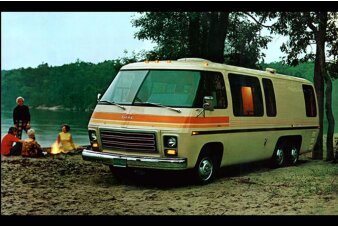 The GMC MotorHome: A forgotten '70s relic becomes a 21st-century collectible.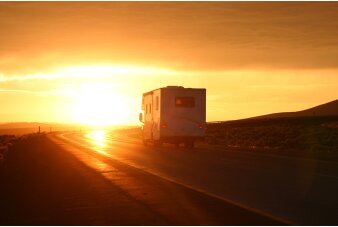 Make sure to obtain proper coverage prior to driving your new RV off the dealer lot.
Related Motorhomes
×
Best Class A RVs For 2022