‹ Go back
Best RV Parks and Resorts in Florida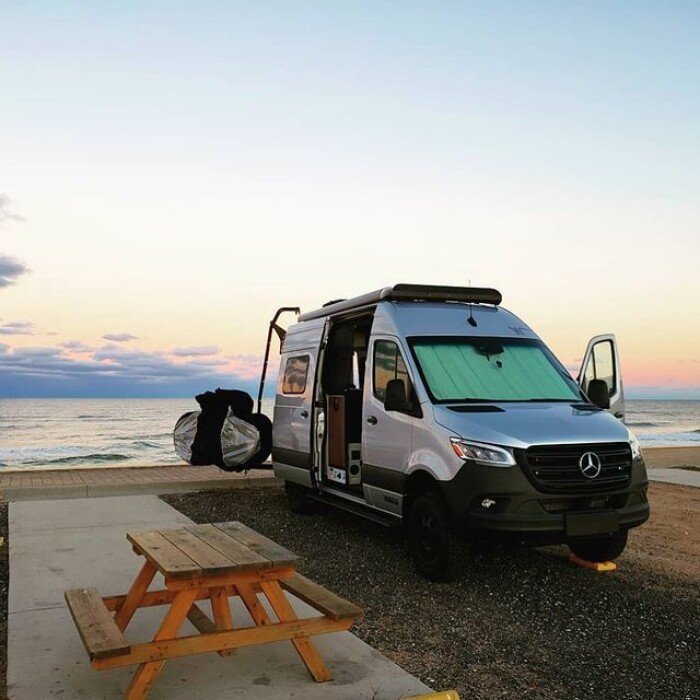 Credit: Beverly Beach Camptown RV Resort, Flagler Beach.
Table of Contents
Traveling by RV is a great way to see the country, and if Florida is on your bucket list, there are plenty of options for exploring the state by RV. With its powdery-white beaches, year-round warm weather, and plentiful RV parks and resorts, Florida is a favorite among full-time RVers and weekend warriors alike. Take a look at our roundup of the best RV parks in Florida to start planning your getaway to the Sunshine State.
1. Panama City Beach RV Resort, Panama City Beach
With 69 luxury full hookup sites, the private, gated Panama City Beach RV Resort can accommodate any size luxury vehicle, including big rigs. Equipped with extras like showers, a heated pool, a fitness center, free high-speed WiFi, laundry facilities, and golf carts for rent, Panama City Beach RV Resort ensures a luxury experience.
Easy beach access and free breakfast on Saturdays will have you relaxing in no time — even your pup can get in on the fun at the on-site dog park at this pet-friendly resort. Be sure to catch the local water theme parks, high-end shopping, golf, and abundant outdoor sports while enjoying your stay.
4702 Thomas Dr.
Panama City Beach, FL 32408
(850) 203-3159
Google Maps
Website:
https://panamacityrvresort.com/
Social:
Instagram
Rates: See website for rates and availability
2. Destin RV Beach Resort, Miramar Beach
An Emerald Coast favorite, Destin RV Beach Resort has earned its spot among the best RV resorts in Florida, with 36 fully equipped cement pads with patios that welcome RVs of all sizes. Private access to the Gulf Beach provides panoramic views of the Florida Panhandle in all its splendor.
Enjoy the heated pool, lush landscaping, and nearby golf-cart and beach-chair rentals, or venture out to local dining spots and nearby attractions within walking distance. Gated security with cameras provides peace of mind, while laundry facilities, showers, and included utilities, cable TV, and WiFi throughout the resort will meet all of your basic needs and wants.
362 Miramar Beach Dr.
Miramar Beach, FL 32550
(850) 837-3529
Google Maps
Website:
https://www.destinrvresort.com/
Rates: See website for rates and availability
3. Fisherman's Cove RV Resort, Tampa Bay
With 82 full hookups and breathtaking views of Terra Ceia Bay, Fisherman's Cove is a haven for paddlers, anglers, and outdoor enthusiasts. Grab a paddleboard or kayak (complimentary with your stay), and enjoy a day trip to explore the region's nearly 2,000 acres of hiking trails, mangroves, and other natural wonders; a short drive will take you to St. Petersburg, Bradenton, Sarasota, or Anna Maria Island.
Meanwhile, the resort's clubhouse, game room, pickleball court, waterfront pool, fitness center, dog run, outdoor tiki hut, and large, outdoor gathering pavilion will get you socializing with your neighbors. Clean, modern facilities complete with laundry services, showers, and restrooms ensure a comfortable visit. Sign up for the resort's newsletter to stay in the know.
100 61st E
Palmetto, FL 34221
(941) 269-1019
Google Maps
Website:
https://myfishermanscove.com/
Social:
Facebook
|
Instagram
|
YouTube
Rates: From $79
4. Fort Pickens Campground, Santa Rosa Island
Featuring 137 sites with full hookups and paved pads, each with a fire pit, barbecue grill, and picnic table, Fort Pickens Campground is an outdoor oasis located on Santa Rosa Island, part of the Gulf Islands National Seashore. Escape to the emerald waters for swimming, snorkeling, fishing, or lounging on ivory sands, or enjoy hiking, biking, and exploring the historic fort on land.
Flush toilets, warm showers, drinking water, and a dump station ensure a comfortable stay. Your visit is limited to 14 consecutive days, just enough time to make lasting memories and start planning your next adventure at one of the best RV resorts in Florida.
1400 Fort Pickens Rd.
Pensacola Beach, FL 32561
(850) 934-2622
Google Maps
Website:
https://www.recreation.gov/camping/campgrounds/234704
Rates: From $20; entrance fees are required for the Fort Pickens area, good for seven consecutive days from purchase
5. Beverly Beach Camptown RV Resort, Flagler Beach
One look at the 1,500 feet of Atlantic Ocean beachfront property at Beverly Beach Camptown Resort, and you might not want to go home. This is one of the few RV resorts in the area located right on a seawall, providing stunning ocean views, pristine sand, pet-friendly grounds, and over 170 RV sites with full hookups, WiFi, and 50-amp service.
Beach walkways, two laundry facilities, three bathhouses, and a convenience store stocked with beach essentials make it easy to enjoy the beach without worrying about the cleanup. A day trip 32 miles north will take you to St. Augustine, touted as the nation's oldest city and rich with Spanish colonial architecture; or you can venture to Daytona, 30 miles to the south, to enjoy the boardwalk's rides and arcades.
2815 N. Oceanshore Blvd. (A1A)
Flagler Beach, FL 32136
(386) 439-3111
(call for reservations)
Google Maps
Website:
https://www.beverlybeachcamptown.com/
Social:
Facebook
|
Instagram
Rates: From $70
6. Bickley RV Park, Seminole
At this 55-and-older community, you'll find options for weekend stays, month-long getaways, or year-round living for dedicated RVers. With luxury, pull-through, and standard lots available with full hookups and 30- or 50-amp electricity, Bickley RV Park has large, shaded sites, a heated swimming pool, a dog park, laundry facilities, hot showers, and other amenities.
When you're not relaxing on the sand, you can enjoy a concert at the pool, game and movie nights, coffee socials, Sunday barbecues, and other community events that'll make you feel right at home. Located minutes from Tampa International Airport, world-class shopping and dining, and a Walmart Supercenter for all your essentials, Bickley RV Park is centrally located — yet secluded enough to make it feel like a tropical hideaway.
5640 Seminole Blvd Seminole, FL 33772
(727) 392-3807
Google Maps
Website:
https://bickleypark.com/
Social:
Facebook
Rates: From $68
7. Lake Magic RV Resort, Orlando
Located on Lake Davenport in Central Florida, Lake Magic RV Resort is among the best of the best RV parks in Florida — just 6 miles away from the Magic Kingdom, plus plenty of local shops, restaurants, golf clubs, and other attractions. Although there are on-site laundry facilities, some guests prefer the clean, modern YoWash laundromat just next door to the nearby Aldi, where you can stock up on essentials for your stay.
On-site amenities include a clubhouse, dance hall, arts and crafts, church services, a swimming pool, shuffleboard, live entertainment, and a dog park for your fur buddy. The park features 471 sites with 30- and 50-amp electricity that can accommodate RVs of all sizes.
9600 Highway 192
West Clermont, FL 34714
(863) 420-1300
Google Maps
Website:
https://www.rvonthego.com/florida/lake-magic-rv-resort/
Social:
Facebook
Rates: See website for rates and availability
8. Fiesta Key RV Resort, Florida Keys
Among the best RV resorts in Florida, this one deserves special attention. Situated on its own island in the Florida Keys, Fiesta Key RV Resort is a 28-acre park with 324 sites enveloped in tropical vegetation, Gulf of Mexico ocean views, and spectacular sunsets.
On-site amenities are aplenty, with a swimming pool, spa, store, restaurant, beach bar, dog run, and free WiFi in the community center — plus showers, restrooms, and laundry facilities. There's not much reason to leave once you're there, but you can always wander to nearby Long Key State Park, the Dolphin Research Center, or Bud 'N' Mary's fishing marina.
70001 Overseas Highway
Long Key, FL 33001
(305) 249-1035
Google Maps
Website:
https://www.rvonthego.com/florida/fiesta-key-rv-resort/
Rates: See website for rates and availability
9. Red Coconut RV Park, Fort Myers Beach
It doesn't get much better than beachfront living, and Red Coconut RV Park has you covered with 450' of immaculate sand, expansive views, and the kind of serenity you can only get in the great outdoors.
With 60 sites that feature full hookups, internet service, and picnic areas, the park offers a simple, serene slice of paradise surrounded by cerulean waters that'll take you away from the hustle of daily living. Yet there's still plenty of island fun to be had, with watercraft available for rent, a nearby swimming pool, world-class golfing, and parades and festivals throughout the year.
3001 Estero Blvd.
Fort Myers Beach, Florida 33931
(239) 463-7200
(call for reservations)
Google Maps
Website:
https://www.redcoconut.com/
Social:
Facebook
|
Instagram
Rates: From $79
10. Crystal Isles RV Resort, Crystal River
With its perfect blend of family-friendly fun, scenic West Coast views, and on-site amenities, Crystal Isles RV Resort offers a haven for travelers of all kinds. Nearby beaches, fishing opportunities, hiking and biking trails, and pet-friendly grounds provide ample outdoor time for nature enthusiasts.
Meanwhile, there are plenty of on-site recreational activities like shuffleboard, beach volleyball, basketball, a clubhouse, a swimming pool, free children's programs, and live entertainment. Nestled next to the Crystal River where visitors can swim alongside manatees, this resort offers 254 sites that accommodate everything from standard to luxury service.
11419 W. Fort Island Trail
Crystal River, FL 34429
(352) 795-3774
Google Maps
Website:
https://www.rvonthego.com/florida/crystal-isles-rv-resort/
Social:
Facebook
Rates: See website to check rates and availability
The Ultimate Florida RV Resort Road Trip
If it were up to us, we'd take the following route to make the ultimate Florida RV resort road trip.
Now, we don't have anything against the panhandle; the beaches have sand like flour and the water is clear like the Caribbean. However, we would start at Beverly Beach Camptown in Flagler Beach with a reserved oceanfront spot. Plus, if you're a history buff you're close to St. Augustine, the oldest city in the U.S.
Next, we'd head to the west coast for some time at Crystal Isles RV Resort in Crystal River which is 129 miles away. This would allow you to experience back-to-back stays on both of Florida's coast. The surrounding nature area is spectacular, or so we've been told and the sunsets on the west coast are magical. The fishing isn't bad either.
From there, we'd head over to Lake Magic RV Resort in Clermont Florida which is only an 87-mile drive. The grandkids could meet you there for some fun at the Magic Kingdom, Hollywood Studios or Universal Studios, if you like family friendly action and adventure.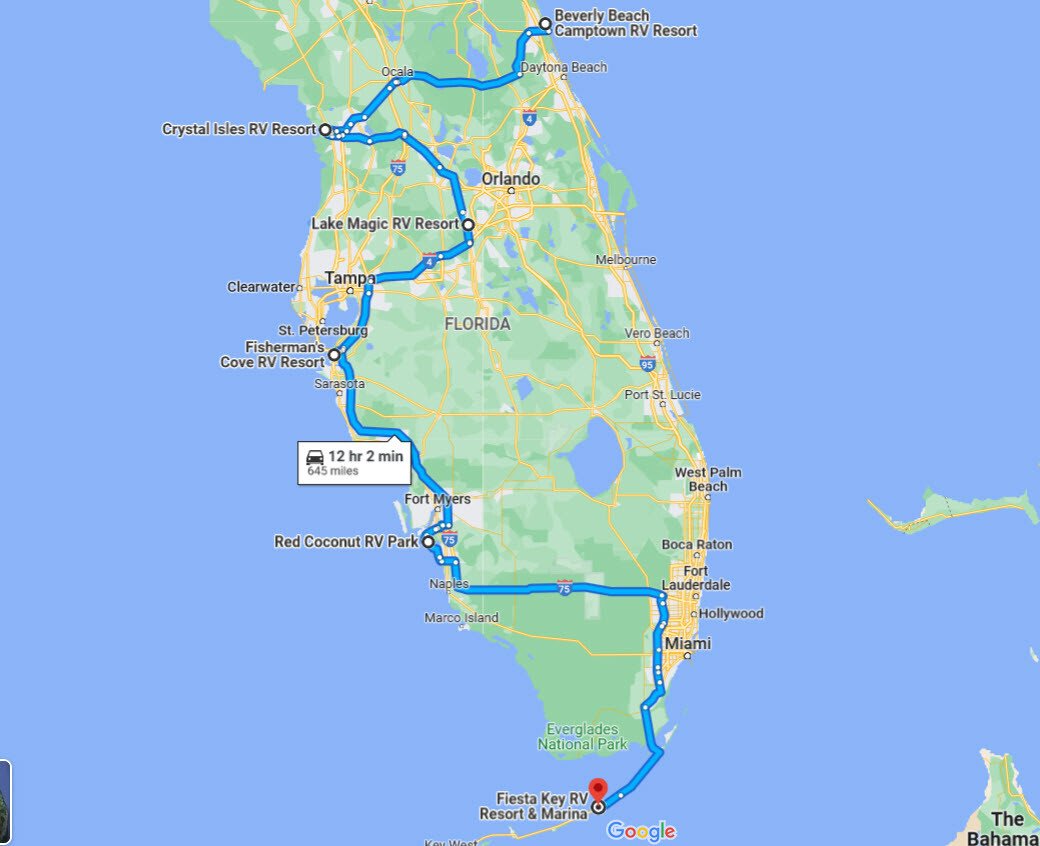 Credit: Google Maps
If the big tourist destinations aren't your speed, bypass the Orlando area completely and head directly south to Fisherman's Cove RV Resort in Palmetto; it is 115 miles from Crystal Isle RV Resort. While you're here you could explore out all the barrier islands south of Bradenton such as Anna Maria, Longboat Key and Siesta Key.
Our next stop, 117 miles south is Red Coconut RV Park in Fort Myers. We hear that the beaches of nearby Sanibel and Captiva rival those in the panhandle. The last leg of this road trip would be 206 miles and you'd end up at Fiesta Key RV Resort in the Keys. Enjoy island life as it is meant to be and don't look at the clock or your calendar as you're now on "island time." We hope you like seafood and umbrella drinks.
A total of just under 650 miles and roughly 13 hours in the motorhome would take you from northeast Florida to the west coast, over to the home of the mouse, down the west coast and finally ending up in the Keys. Want to make it a loop? Leave the Keys and take I-95 due north, all the way back to Beverly Beach in Flagler to end up where you started from. Florida has over 1,100 total RV resorts, parks, or campgrounds so you can find another place to stay on the east coast between the two endpoints. We would spread this road trip out over 7 – 10 weeks allowing you to leisurely explore and discover.
Visit One of the Best RV Resorts in Florida
Whether for a couple's weekend getaway or a family adventure, the best RV parks in Florida offer an unforgettable adventure like no other. If your travels take you to Florida, you'll want to jump at the chance to stay at one of these thoughtfully designed homes away from home.
Published May 25th, 2022
Related Articles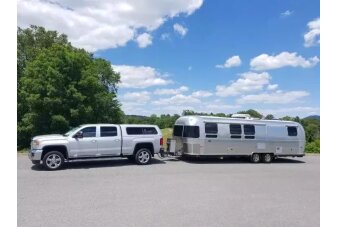 Here are our top 10 RVs for sale by owner.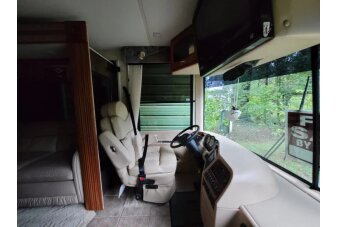 Most states do not require a special license to drive an RV weighing under 26,000 lbs. We've compiled each state's RV license requirements, CDL or other rules for 2022.
Related RVs
×
Best RV Parks And Resorts In Florida