‹ Go back
Here Are All the Crazy Overlanding Vehicles I Saw at Overland Expo West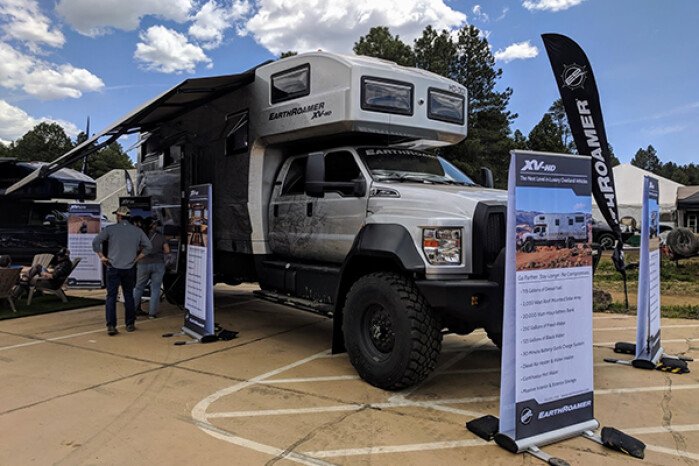 Author: Chris O'Neill
I recently had a last-second chance to attend this year's Overland Expo West, which is held every May in Flagstaff, Arizona. For anyone not in the know, "Overlanding" combines off-roading with camping; overlanders rely on their vehicles to take them long distances over both paved highways and treacherous off-road trails, camping along the way. The Overland Expo is basically a trade-show of sorts for the industry supporting this pastime.
Never having gone to the event before, I was unsure of what to expect. It turned out that just about every company with a stake in the adventure travel industry was in attendance. The vehicles, though, were the main attraction. In addition to companies selling camping gear and aftermarket equipment, just about every off-road vehicle upfitter was in attendance, some from as far away as Australia and South Africa. In addition to companies who attend, hundreds of overlanders make the pilgrimage to Flagstaff every year for the event, making the parking lot and camping area just as interesting to stroll through as the expo itself -- with unique, off-the-wall, quirky vehicles as far as the eye can see.
Every series of Land Cruiser was represented, tow-behind camp trailers and rooftop tents were around every corner, and I never knew so many camper van conversion companies were in existence. Here are some of the highlights.
DEFCO trucks is based in Colorado and converts everyday, pedestrian Ford Super-Duty trucks into off-road ready mega-Raptors. This one is fitted with a slide-in Hallmark camper.
This is a 1990 Mercedes-Benz T1 410 4x4 Van. It wore Virginia plates and had dually rear wheels and a large, sliding door on both sides and on the back, which would make for a fun open-air camping experience. That's a for-sale sign in the windshield stating only 10,000 original miles and an asking price of $30,000.
Here's a very old 6x6 Land Rover Defender
Unimogs were thick on the ground. This matte-green 1970s model was probably my favorite.
Warn had a booth with this imported right-hand-drive Mitsubishi Delica, used to show off their line of winches.
Multiple very good dogs were in attendance.
Overland Experts is an overland training company based in Connecticut, and they brought along their Toyota Hilux for display.
Overland Expo wouldn't be complete without a look at some EarthRoamers. The Colorado-based company's newest model, the XV-HD, uses a Ford F-750 Heavy Duty 4x4 chassis and costs $1.5 million. It's got room for 115 gallons of diesel fuel and 250 gallons of water -- probably sufficient for anyone looking to disappear for while.
This pristine Suzuki Samurai had been retrofitted with a Diesel engine.
But at the end of the day, nothing could beat this dirty, rally-ready Porsche 911.
Chris O'Neill grew up in the rust belt and now lives in Salt Lake City, Utah. He worked in the auto industry for a while, helping Germans design cars for Americans.
Find an RV for sale
Published Aug 10th, 2018
Related Articles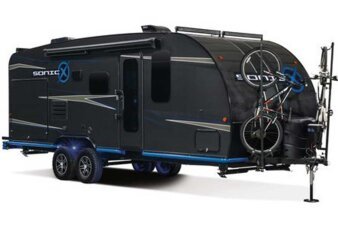 The 26-in camp trailer utilizes modern materials and focuses on energy efficiency.
Related Travel Trailers
×
Here Are All The Crazy Overlanding Vehicles I Saw At Overland Expo West