‹ Go back
Estate Auction - classic cars, motorcycle and equipment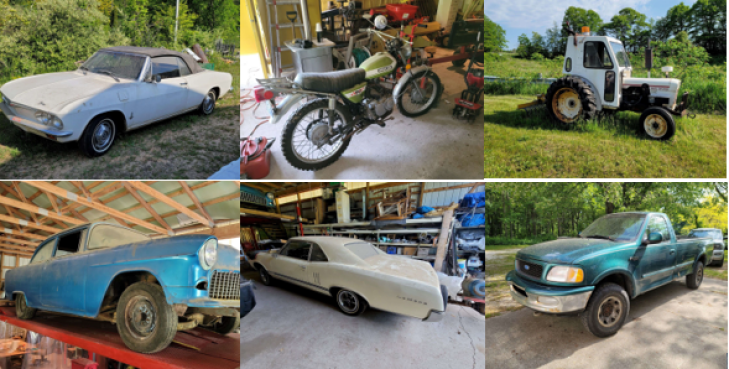 Event Information
RAYMOND AMANN ESTATE - Two auction rings throughout the day!!

Automobiles/Motorcycle: 2014 Chevrolet Impala LT Four Door, 3.6L V6, 65,156 Miles; 1997 Ford F250 4x4 5.4L V-8, 113,000 Miles; 1967 Pontiac Lemans Sprint, 6cyl OHC engine, engine has been removed from the car, includes original engine and two parts engines,4spd, VIN# 237077P613063; 1965 Chevrolet Monza Corvair Convertible 6cyl, 4spd, VIN# 105675W270168, 1955 Chevrolet 210 Two Door Post, Equipped with 327ci (built) engine and Muncie 4spd, Stored for 20+ years; VIN#VB55K067212. 1972 Suzuki TS90 Motorcycle, VIN#TS9096244.
Boat-Snowmobiles-Trailers-Camper: Mirro Craft 12' Aluminum Boat w/Trailer, Mercury 9.8HP Outboard Motor, 10' U.S. Marine Rubber Boat, 1980 Ski-doo 500E Everest Snowmobile Serial No. 3477-01905, 1988 Ski-doo Citation LS Serial No. 3223-00477, Arctic Cat Kat-Kutter, 16' Tandem Axle Car Trailer w/2' Beaver Tail, Haul Master 4 X 8 Folding Trailer, Sun Lite Eagle Pop-up Truck Camper.
Tools & Shop Equipment: Dayton AC Arc Welder, Lincoln 10HP Gas Powered 150 Arc Welder, Welding Helmets, (2) Oxy-Acetylene Torch Set with Tanks, Allied 24pc ¾" Socket Set, Tap & Die Set, Cordless Drills, Vibratory Tumbler, Craftsman 1HP 3-Gal. Air Compressor, Shop-Vac, Dewalt Cut off Saw, Craftsman toolset; Sears Bench Grinders, Clarke Model BT1001A Floor Model Drill Press, Allied 3-ton Floor Jack, 1.5 Ton Cherry Picker Engine Hoist, Zendex Bag Jack, C-Clamps, Support Roller; Craftsman Three Section Took Box, Hardware Bin, Machinist Tools, Air Tools, Large Group of Hand Tools, Torque Wrenches, 1500PSI Pressure Washer, Power Tools, Arbor Press, Bench Vises, Work Benches, Craftsman Rolling Tool Box, Polycraft Hose Reel, Parts Cleaner, Ladders, Big Joe Model 1454 Platform Jack, Craftsman Radial Arm Saw, Large Safety Cabinet, Sand Blaster, Shop Stools, Pallet Rack Shelving. Generators- Winco 20KW PTO Driven generator on trailer, Honda EU2000 Generator. Lawn & Farm Equipment- David Brown 885 Diesel Tractor with Cab, Yard Machine 26-Ton Log Splitter, King Kutter 3pt 5' Landscape Rake, King Kutter 3pt Dirt Scoop, SpeeCo 3pt 6' Disc Harrow, Land Pride 3pt 58" Rototiller, 3pt Hoist, (2) Farm Kin Model 600 3pt Snow Blowers, 5' 3pt Bush Hog Squealer Rotary Mower, Snapper Zero Turn Mower w/38" Deck, Ficklin 12v Trailer Type Sprayer, Husqvarna 445 Chainsaw w/case(Like new), Homelite Chainsaws, Yard Carts, Snapper Push Mower, Law Boy Push Mower, Lawn Roller, Ariens Rototiller, Fencing, Toro Snow Blower. Cider Presses, Yard Tools, Bicycles, Lawn Furniture, Park Benches, Hose Reels. Firearms- Ruger Carbine 44 Magnum Cal. Rifle w/Scope, Ranger 410 Double Barrel Shotgun, Marlin Model 60 .22cal LR Rifle, Ranger 12ga Double Barrel Shotgun, Charles Daly 20ga Over/Under Shotgun, H & R .45cal Springfield Stalker Black Powder Rifle, ArmaLite AR-7 Semi-Auto .22cal LR Knockdown Rifle. Reloading Equipment. Note: All firearms have been taken off-premises until auction day.Household-Antiques- Globe-Wernicke 4 Section Stack Bookcase, Leather Recliner, Couch, 2pc Wicker Set, Samsung TV, Corner Curio Cabinet, Dining Room table and 4 chairs, Kitchen items, 4pc Bedroom Set, Safes, Clocks, Floor Globe, Treadle Sewing Machine, Freezer, Gun Cabinet, Dressers, End Tables, Crocks, Lanterns, Metal Detector Vintage Camera Equipment, Trunk, Lionel Train Set, Car models. Snowshoes, Weber Grill, Oil Cans, and more.

For more information click on the image above or go to https://www.stantons-auctions.com/. For questions call (517) 726-0181 or email stantonsauctions@sbcglobal.net.
Event Details
Where:

8045 S. Scenic Dr.




Montague

,

MI

49437

When:

Jul 17, 2021

Auction starts SATURDAY MORNING , JULY 17TH , 2021 @ 10:00 A.M

Event Organizer:

Stanton's Auctioneers

Website: