‹ Go back
Heartland Classic - Three Day Online Auction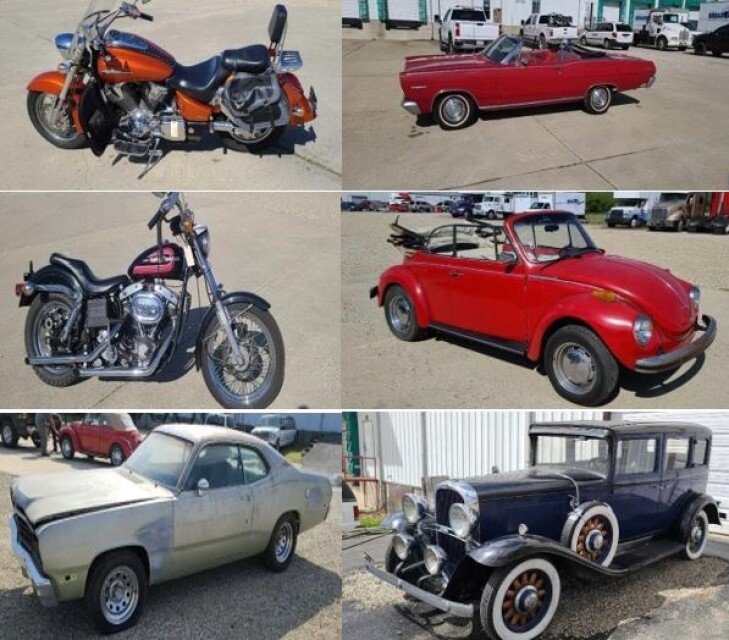 Event Information
This three day event will feature a little bit of everything. Online only event running from May 18th to May 20th. Check back often for updates.
PART 1 OF THE ONLINE ONLY HEARTLAND CLASSICS/BROADWAY EXPRESS AUCTION FEATURING 2007 HARLEY DAVIDSON 1200 ROADSTER, 1980 HARLEY DAVIDSON FSX, 2002 HONDA VTX 1800, 1931 OLDSMOBILE CUSTOM CRUISER, 1997 MOTO GUZZI, 1975 SUZUKI GT185, 2016 FOREST RIVER VNOSE TRAILER, 3 WHEEL GOLF CART, ROL.A.LIFT HYDRAULIC MACHINES, OFFICE FURNITURE & SUPPLIES, FURNITURE, SCALE CARS & TRUCKS, APPLIANCE DOLLIES, VINTAGE BICYCLES, COLLECTOR STATUES AND PLATES, DESIGNER HANDBAGS, CLOTHING, KITCHEN ITEMS, CHRISTMAS ITEMS, BOLTS OF WHITE MATERIAL, CASES OF DOOR HINGES, WOOD SHEETS, GROOVED PLANKS, MUCH MUCH MORE!
THIS IS DAY 1 OF 3 DAYS FULL OF ITEMS! PREVIEW FOR ITEMS SATURDAY MAY 8TH 1 - 3 PM

PART 2 HEARTLAND CLASSICS/BROADWAY EXPRESS AUCTION FEATURING PORTABLE SOLAR GENERATOR, FORD 1320 DSL TRACTOR, 1966 MERCURY COMET 289, 2006 SAAB, 1996 MOTO GUZZI, 1993 HARLEY DAVIDSON SOFTAIL, 1994 MAZDA B2300 PICKUP, 1976 HARLEY DAVIDSON SUPERGLIDE, 1985 HONDA INTERCEPTER, ROL.A.LIFT ROLLAROUND HYDRAULIC LIFT, SNAP ON TOOL CHEST, LOTS OF TOOLS, DIRECT LIFT FOR MOTORCYCLES & FOUR WHEELERS, SCAFFOLDING, 1968 CHEVY 327 ENGINE & OTHERS, 1960'S & 70'S CAR PARTS, CAR DOORS, BUMPERS, HOODS, FENDERS, 1960'S CHEVY CORVETTE SEAT COVERS, BOOKS, FURNITURE, LIVING ROOM, BEDROOM, & OFFICE, WALL MIRRORS, CLOTHING, JACUZZI TUB, PAINTINGS, HOME DECOR, STAGE LIGHTING, AND HUNDREDS OF OTHER ITEMS!
DAY 2 OF 3 FULL DAYS OF ITEMS! PREVIEW FOR ITEMS IS SATURDAY MAY 8TH 1 - 3 PM

PART 3 HEARTLAND CLASSICS/BROADWAY EXPRESS AUCTION OWNED BY TONY GRIFFITH FEATURING 1973 PLYMOUTH DUSTER, 1965 MALIBU STATION WAGON, 1978 VW BEETLE, 1960'S & 70'S CAR BUMPERS, HOODS, PARTS, CORVETTE REMOVABLE HARD TOPS, HUB CAPS, AIR FILTERS, OILS, & FLUIDS, AND MORE, ATLAS ELECTRIC WHEEL BALANCER, BLUE POINT TOOL CHEST, LOTS OF TOOLS, SOME SPECIALTY, ECHO CONCRETE/METAL CUT OFF SAW, BATH VANITIES, NEW MARBLE SINKS, FURNITURE, DESKS, OFFICE CHAIRS, FILING CABINETS, LOTS OF HOTEL WALL MOUNT BED HEADBOARDS, RONALD BYRUM PRINTS, SIGNED PAINTINGS, COLLECTOR ITEMS, FUR COATS, QUALITY WOMEN'S CLOTHING, CRAFTSMAN RIDING LAWN MOWER, LAWN ITEMS, MUCH MORE!

For more information click on the image above or go to http://www.schackmann.com/. For questions call (217) 342-4500 or email schackmann@schackmann.com.
Event Details
Where:

1901 W. Evergreen Ave.




Effingham

,

IL

62401

When:

Apr 25, 2021

-

May 20, 2021

Day 1 - ENDING TUESDAY MAY 18TH @ 7 PM

Day 2 - ENDING WEDNESDAY MAY 19TH STARTING @ 7 PM

Day 3 - ENDING THURSDAY MAY 20TH STARTING @ 7 PM

Event Organizer:

Auctions By Schackmann

Website: