‹ Go back
Live and Online Historic Vehicle and Antique Engine Auction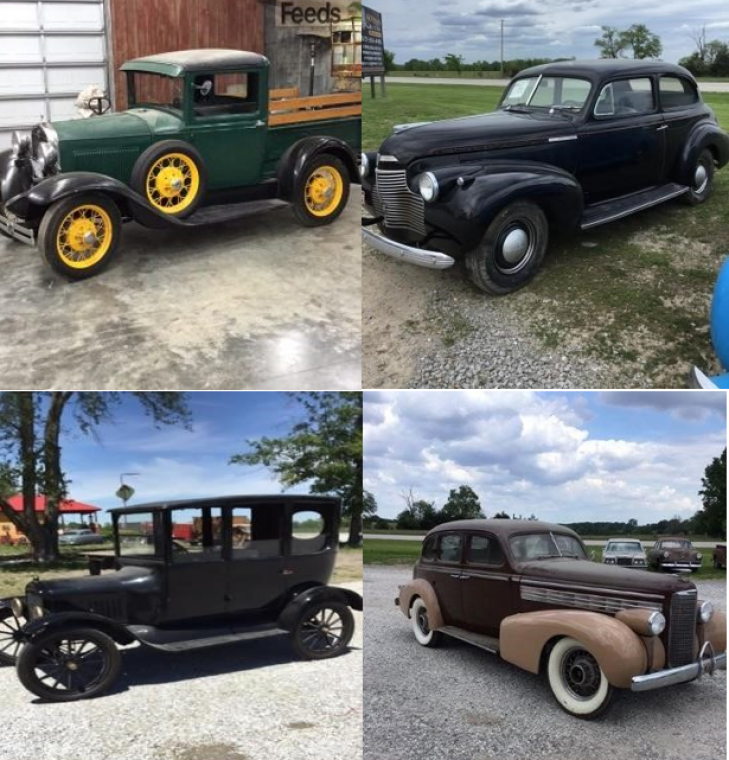 Event Information
Auction to be held at Scotty's Auction Facility and Event Center, 2 miles north of Macon, Missouri, on US Highway 63. Look for auction barn on your left. Watch for signs the day of the sale. This auction will be held online as well as live.

Antique Automobiles and Tractor: – 1926 Ford Model T Roadster; 1928 Chevrolet Landau Coupe; 1930 Ford model A; 1931 Ford pickup; 1927 Ford model T speedster; 1923 Ford Model T pickup; 1925 Ford model T sedan depot hack; 1924 Graham Brothers Truck; 1924 Ford model T Four door; 1920 model T mid door /door coach will start and drive. Belonged to to Smith motor company was their grandfather's car.; 1920 model T mid door/ door coach will start and drive owned by Smith Motor Co for generations; 1934 Ford paddy wagon truck. Very unique; 1908 Oldsmobile reproduction runs and drive with custom trailer; 1912 Sears horseless cart with 5hp Briggs and Stratton motor; 1940 Chevrolet starts and runs in great shape; 1941 Packard four door runs and drives; 1951 MG two door right hand steering; 1967 triumph two door; 1977 Chrysler Newport 29,000 original miles; 1980 Chevrolet El Camino 1966 Chevy Caprice 2 door hard vinyl top, Corvette wheels, 327 engine, Corvette front end, 400 Chevrolet automatic transmission, manual choke, factory air & electric windows, shows 58,000 miles; 1938 Cadillac Deville: 1948 Packard Clipper: 1987 Chevy El Camino; 1959 Edsel; 1971 Pontiac convertible; 1949 Dodge truck; 1964 Ford truck; 1973 Ford truck; 1987 Chevrolet pickup; 1958 Kenworth; 1941 Diamond T truck; 1949 Diamond T truck; 1947 Federal 2 ton truck; 1970 Cadillac; 1951 Kaiser; 1930 Farmall tractor; 1938 Cadillac Deville 4 door; 1987 El Camino SS, 54,085 miles, has title; 1980 El Camino, shows 17076 miles, V6 engine; Kaiser; 1959 Edsel, 4 door; 1970 Cadillac convertible shows 21,390 miles, V8 engine; 1971 Pontiac Grand Ville convertible shows 61,949 miles, runs; 1977 Chrysler Newport, shows 29816 miles.; 1980 Lincoln Continental Mark VI, shows 52700 miles; 1963 IH Scout, has title. Actual miles 42386, wench & wooden bed; 1987 Chevrolet flatbed pickup, Custom Deluxe 30, with title, shows 78,635 miles; 1947 Federal 2 Ton truck

There will be many more items at this sale too numerous to mention. For more information click on the image above or go to https://www.scottysauctionservice.com/. For questions call Scott at 573-356-4405.
Event Details
Where:

28251 US Highway 63 North




Macon

,

MO

63552

When:

Jun 10, 2021

-

Jun 26, 2021

Pre-bidding (e-Bay Style) begins June 10, 2021, at 8:00 a.m. CST

Live auction on June 26, 2021, beginning at 10:00 a.m. CST

Event Organizer:

Scotty's Auction Service

Website: