‹ Go back
Live & Online Auction! Tractors, Dump Trailers, Trailers, Logging Equipment, Trucks and Much More!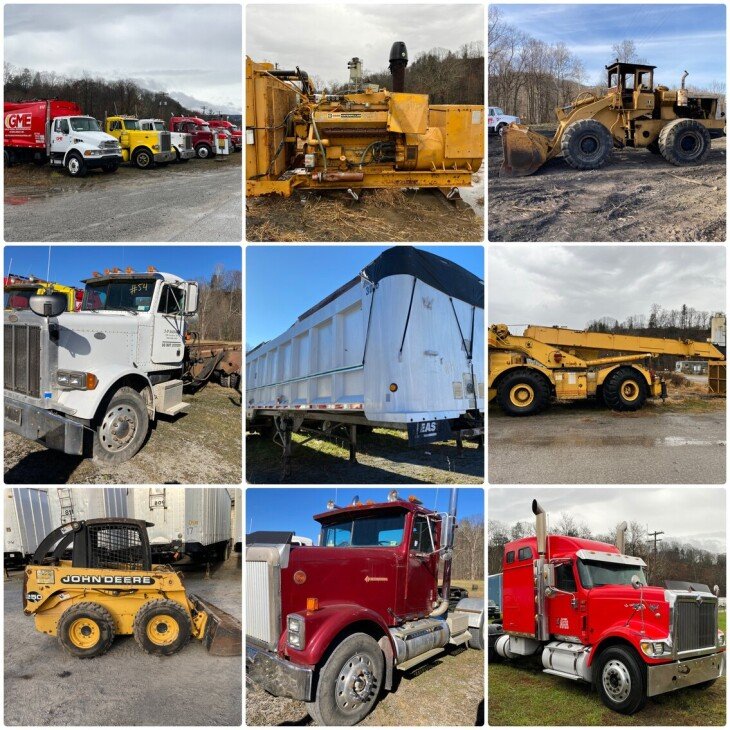 Event Information
Live & Online Auction!
Tractors, Dump Trailers, Trailers, Logging Equipment, Trucks, Commercial Generators, and Much More!
Thurs., Dec. 8th at 10am
Registration Begins at 8am
Early Preview Date – Sat., Dec. 3rd 9a-3p
Pick-up Dates – 12/8, 12/10: 10 am - 4 pm - 12/15, 12/16 & 12/17: 10 am - 4pm

Rolling Stock Includes: 2008 International Tractor 218K miles, 2011 Freightliner Coronado Tractor, 1987 International Eagle Tractor 726k miles, 1995 Peterbilt Roll-off 142k miles, 2000 Peterbilt Roll-off 113k miles, 2007 Ford Sterling Garbage Truck 300k miles, 2006 International 7400 Garbage Truck, Mack Garbage Truck & 2001 International 4900 Garbage Truck, 2010 International Durastar 4400 Garbage Truck, Emergency-One Tanker/Pumper Fire Truck, 1988 GMC 7000 Tanker/Pumper Fire Truck, 1986 Pierce Lance Fire Truck, 2003 Ford F450 XLT Super Duty w/ Lift Gate, 1987 Ford L8000 Snowplow Truck, 2007 Ford Sterling Roll-Off, 1988 Diamond Rio Giant Cement Truck, International Harvester Transtar 4200, 1981 Freightliner Triaxle Dump Truck, 1980 Ford Tanker Truck, 1976 Brockway 761 Truck w/ Hydro Crane,
1975 Great Dane House Trailer (with Living Quarters), Auto Car Triaxle Dump Truck w/ 295k miles, 2004 Polaris Ranger, 2011 Montana 5th Wheel RV, 2004 Chevy Impala, GMC C4500 Duramax Diesel 2- Car Hauler, 2010 Ford F250 Superduty 4WD Truck, 2005 Ford F250 King Ranch Lariat Truck, 2011 Ford F250 Superduty,
2011 Ford F250 Utility Truck and much more.

For more information click on the image above or go to https://www.joerpyleauctions.com/. For questions call Jordan Kiger at 724-998-5810 or email jordan@joerpyleauctions.com.
Event Details
Where:

325 D and W Lane




Parsons

,

WV

26287

When:

Dec 1, 2022

-

Dec 8, 2022

Lots begin to close on Thursday, December 8, 2022 | 10:00 AM Eastern

Event Organizer:

Joe R. Pyle Complete Auction & Realty Service

Website: