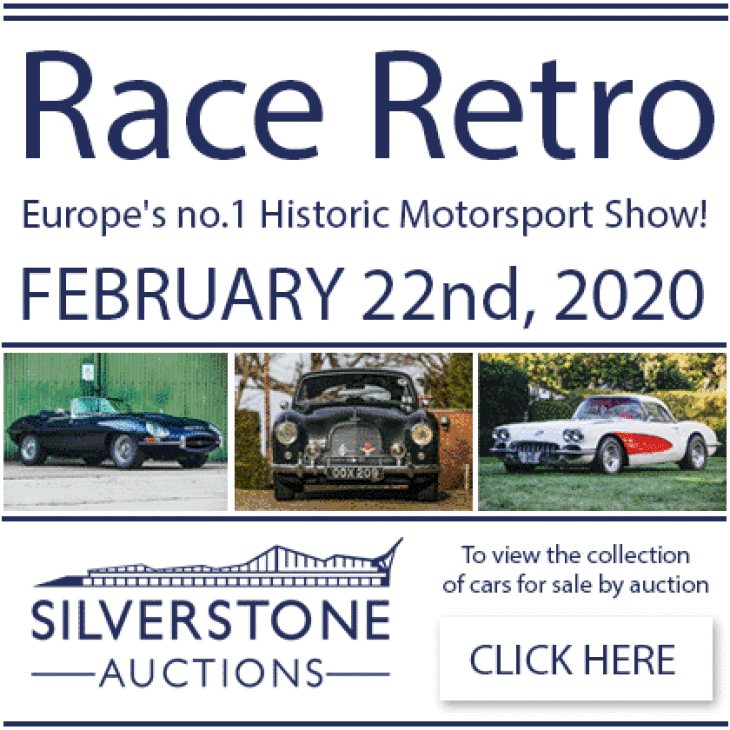 Event Information
ATTENTION - Race Retro Auction Address: Stareton Hall, Stoneleigh Park, Coventry, England CV8 2LZ.

Silverstone Auctions is a world-class, specialist auction house for the sale of classic cars, modern supercars, competition cars, historic motorcycles and automobilia.

We are the only auction house to hold all of our sales in partnership with motoring organisations and automotive events. 2020 will see us hold auctions in association with Ferrari Owners' Club of GB and Porsche Club GB as well as holding sales at Race Retro and the NEC Classic Car Show. We have the exclusive rights to hold car auctions at Silverstone Circuit which is where we host our flagship Silverstone Classic Sale every July.

We take pride in selecting the very best of breed vehicles for our sales which not only attracts buyers from around the world, but has already helped us achieve record-breaking auction prices on behalf of our vendors.

Silverstone Auctions hold the exclusive automotive auction rights for Silverstone Circuit where we host a number of stand-alone events each year, as well as our annual headline sales as part of the Silverstone Classic, the world's biggest classic motor racing festival. In addition to our sales at Silverstone Circuit, we also host a number of auctions each year at other major classic car events, including the NEC Classic Motor Show and Race Retro. November 2019 saw Silverstone Auctions power the first ever classic car auction in Saudi Arabia in association with Seven Concours, a key event at the Riyadh Seasons car show.

Over the years we have also been selected by a number of the UK's official owners' clubs to hold marque-dedicated sales, including the highly regarded Ferrari Owners' Club of Great Britain, Jaguar Enthusiasts' Club and Porsche Club Great Britain.

We take pride in selecting the very best-of-breed vehicles for our sales which attracts buyers from around the world. An auction is a call to action for buyers and sellers alike creating an electric atmosphere in the room.

For bidding information please email enquiries@silverstoneauctions.com or call direct at +44 (0) 1926 691 141 (international rates apply).
Event Details
Where:

Stareton Hall




Stoneleigh Park , Coventry

,

GA

30319

When:

Feb 21, 2020

-

Feb 22, 2020

Friday, Feb 21st starts at 9:00 am

Saturday, Feb 22nd starts at 9:00 am

Website: