‹ Go back
The Tom Hanna Trust Auction - Classics & Shop Equipment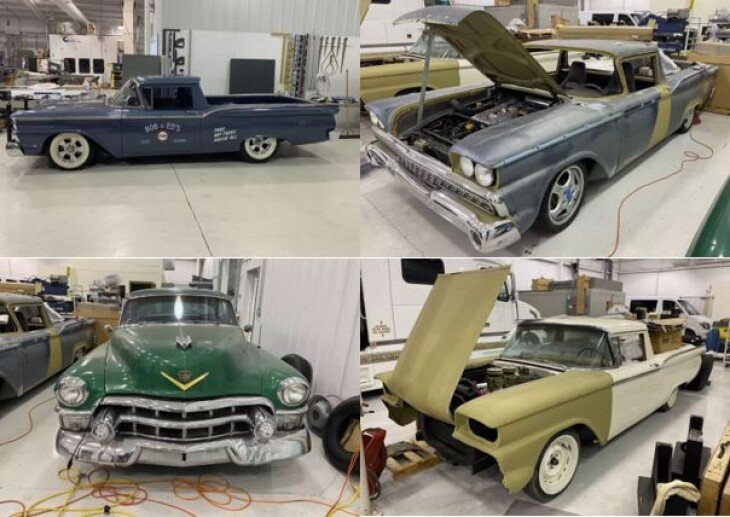 Event Information
Titled Vehicles & Lift Trucks
2007 T&E Enterprise Transporter, VIN 1T9500V2771230665, Powertech 25kW Generator with 263 Hours Showing, Onboard Campbell Hausfeld Air Compressor, Trane Split Heat/AC Unit, Shower/Head, Forward Living Quarters (Unfinished), 53'x14' Arrow Awning, Refrigerator, 36" Upper deck Height

2004 Volvo VNL780 Condo Sleeper Road Tractor, VIN 4V4NC9TJ34N367204, 355,952 Miles Showing, Cummins 677 Thunderbolt ISX 500HP Diesel Engine
2014 Freightliner 2500 Conversion Van, VIN WDYPE7CC8E5884220, 39,451 Miles Showing
1988 Chevrolet Silverado 3500 Dually, VIN 2GCHC39N9J1243614, 71,591 Miles Showing, Engine Was Replaced at 45,735 on 4-20-99, 509 Creitz Automotive Engine with Supercharger, Custom Interior with Digital and Analog Gauges, Android Entertainment Module
Porsche 944 Engine, Frame, Partial Interior, with Ranchero Body "Porschero"
Ford Ranchero, Serial # C9RF129671
Mercedes 600SE V12 Coupe
Ford Ranchero, Serial # 49RF118560
Cat Model T50D LP Forklift, Serial # 8EB10979, 4500LB Lift Capacity, 3 Stage Mast
Yale Electric 3000LB Capacity Forklift, Model M30RG4T090

Drag Race Vehicles & Chassis
Three Front Engine Rail Dragsters with Engines
Five Front Engine Rail Dragster Frames without Engines

Shop Equipment
Steel Jig Plate 72"x120"
Steel Setup Plate 72"x120"
Allas PP-9 9000LB Capacity 4-Post Lift, Setup for Alignment, Single Phase
Ansi 10,000LB Capacity 2-Post Lift, Model I10N100M, Serial # NFI14G0133
Eckold Piccolo Type KF320 KraftFormer No. KF320.73C MFG Date 1985 Fab-Serial #146/4467
Wysong Model 1896 Hydraulic Shear 18 Ga. Capacity Serial #F02-305
Chicago Steel Press Brake Size 333 Serial #L1313
Dreis & Krump No. 8 No. 9 Finger Brake 36"
JET Slip Roll Plate Roller Model #SR-165ON, Stock #754050, Serial #E0604168 16 Ga. Capacity
Trumpf CN700 Copy and Coordinate Nibbling Machine Factory #797
Heck Trace-A-Punch Model 3C Duplicating Nibbler Serial #12927
Pullmax Universal Shearing and Forming Machine, Type P9 No. 58827
Enco 130-5110 4-Ton Hand Notcher MFG. June 1993 Serial #820346
Miller Aerowave CC. AC/DC Hybrid Welder On Cart, Serial #KG286476
Pull Max Type P 3/3 Universal Shearing and Forming Machine No. 56981
Enco 130-5238 Manual Brake, MFG April 1985 Serial #RFY36
Pneumatic/Hydraulic Shrinker Stretcher
Snap On YA5550 Plasma Cutter, Serial #D467837 Model #118-014-901 Date Code 040292
Beverly Shear No. B-1 on Stand
Diacro No. 18 Turret Punch Serial #BE-1069
Rotex No. 18 Punch, Model 18-AK Serial #17131
Diacro 24" Manual Finger Break
Diacro 24" Hand Press Break J-1953
Grob Brothers FAB18 Continuous Filing Vertical Bank Saw Mack #5223
Proline Metal Shaping Station
36" Manual Plate Roller
Oliver Machinery 34-DD Double Disc Sander Serial #77674
42" English Wheel Custom Made
64" English Wheel Custom Made
40" English Wheel Custom Made
Beverly Shear No. B2
Chicago Pneumatic Type 522 Planishing Hammer Serial #439304
Custom Pneumatic Planishing Hammer
Chicago Pneumatic Planishing Hammer with Assorted Dies
Dual Head Pneumatic Planishing Hammers
Model BG-8 8" Bench Grinder on Stand
Manual Shrinker Stretcher
Manual Shrinker Stretcher
Roper Whitney Model 1012 Manual Brake, 12 Ga. Capacity Serial #1012-214-257
BEAD/Seam Roller and Vise Station, Includes Niagra S-1495A Roller, Pexto #622E Roller, Morgan Chicago 138 Vise. All on Custom Stand.
Miller Syncrowave 300 Welder On Cart Serial #JJ321676 Stock #901718
Rockwell Model 20 Vertical Bandsaw, Series #28-3x5 Serial #1712309
Oliver Instrument Model S-1 Die Filer Serial #14332
Mittler Bros. Model #400-VSUADJ Variable Speed Tubing Notcher On Rolling Cart
Rockwell 1S-655 Triple Head Drill Press Serial #1809587, 1604664, 1643200
2" 1 HP Belt Sander Mounted on Cabinet
Stephen Bader 2" Space Saver Sander/Polisher 2 HP On Stand
52" Manual Shear
2 HP 20" Vertical Disc. Sander
Radius Master No. 48 2" Belt Sander On Pedestal
Snap On Blast Cabinet Model YA436
Cincinnati 3-Phase Grinder On Pedestal with Valterra 3" Valve
.33 HP 1 " Belt Sander
Boyer Schultz Hydraulic Surface Grinder Model HY-6296
Hamond Machinery No. 6133 Dual Buffer
Zero Blast-N-Peen Blast Cabinet
Kindt-Collins Co. Model B Master Sander, MFG 2-4-58 Serial #5389 24" Disc
Standard Model 102 Grinder On Pedestal1 HP Type 12FA Serial #48051
Central Machinery 12" Disc Sander
Jet Model OVS-10 Spindle Sander 1 HP Stock #708410, Serial #301026
Oliver Machinery 6" Spindle Sander Mach # 381D Serial #76742
Hammond Machinery No. 31 Dual Buffer
Enco 14" Bench Bandsaw
Miller Dynasty 700 Welder on Cart with Cooler Serial #MB220212L Stock #907101
Miller Dynasty 700 Welder on Cart with Cooler, Serial #LG280325L Stock #907310
Atlas Model PP9 4 Post 9000 lb. Drive on Lift, MFG Date 7-27-2017 Serial #XSP-100292
Forward Model ION100M 2 Post 10,000 lb. Lift Serial # NFI14G0133
DoALL Model DBW-15 Band Saw Serial #290-8714726
Fadal VMC 5020A Vertical Machining Center Fudal CNC88HS Control Head, Model #917-1 MFG 1998 Serial #9807422
Tornado Dust Collector on Dolly
Dewalt 30 Gallon 155PSI Compressor, Model #DXCMLA1983054 Serial #SN1303108S1470355
Mighty Turn ML-1860GL Lathe Fagor Microstar Controller, 10" 3 Jaw Chuck
Emco Maximat Super 88 Lathe, Fabri No. 8410002 Acurite 3 Controller 6" Chuck
DoALL DRT-28 Radial Drill Press Serial #5-8501
Comet "Mighty Comet" Model 3KVHD Vertical Mill Serial #920508
Fagor Innova Controller, Align 500S Super Power Table Feed
Baldor 1/2HP Pedestal Grinder
24"x36"x6" Granite Surface Plate on Table
Carolina CP400 40 Ton Hydraulic Press
Manual Press on Pedestal
US Industrial Tool & Supply Dimpler Riveter Machine 26" Throat
Burr King Vibra King 85 Wet/Dry Deburring Chamber Deburring and Polishing Chamber Model #85 Serial # Not Legible
Snap-On PBC 32 Parts Washer and Degreaser 30 Gallon Capacity
Yoder Planishing Hammer Serial #542
Carolina Metal Cutting Bandsaw Horizontal/Vertical
Enco Model No. 131-2014 Chopsaw Machine No. 3613015 MFG. Date 7-1992
Blasting Cabinet

Automobile Parts and Accessories
Drag Racing Parts, Blowers, Intakes, Valve Covers, Steering Gear Housings, Starters, Rear End Gears

For more information click on the image above or go to https://www.ironhorseauction.com/. For questions email Will Lilly at will@ironhorseauction.com.
Event Details
Where:

264 Diamond Mine Lane




Hendersonville

,

NC

28739

When:

Apr 20, 2021

-

Apr 27, 2021

Lots start closing on Tuesday, April 27th at 10:00 AM

Event Organizer:

Iron Horse Auction Co.

Website: