‹ Go back
Zephyrhills Classic Car Auction & Auto Event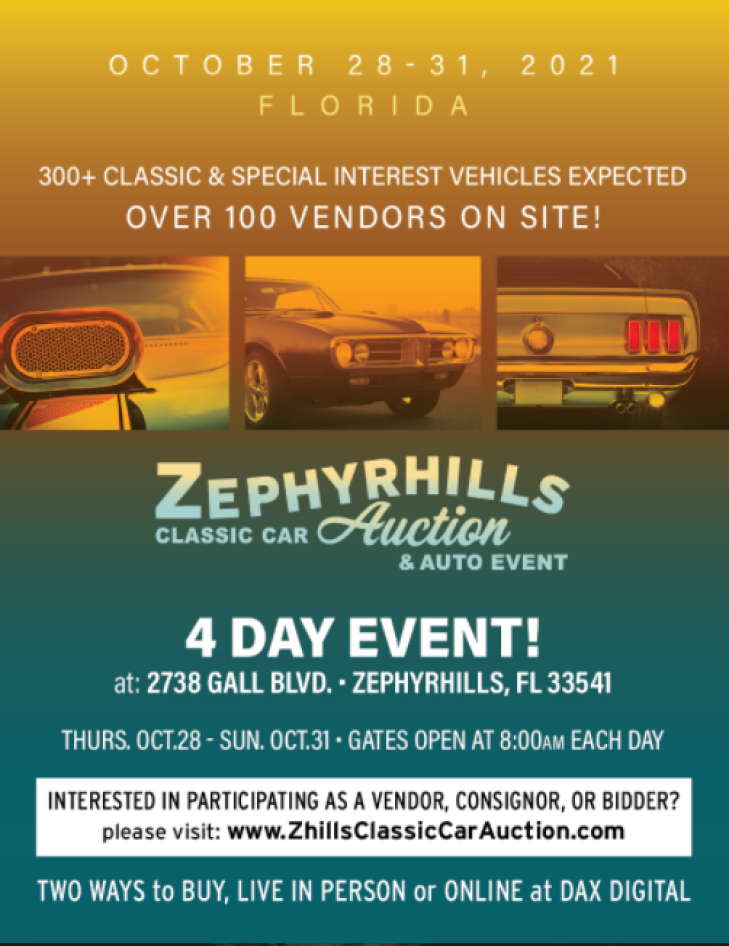 Event Information
Thank you for choosing the 47th annual Fall Zephyrhills Classic Car Auction and Auto Event! This event is a highly-regarded gathering of buyers and sellers at a dedicated auction facility. The professional auctioneers and their staff are committed to helping both buyers and sellers reach their goals! Come out and join us for our fall show full of classic cars, vendors, and fun! Over 200 classic cars and 100 vendors ready and waiting for show time!
Our event will run October 28th – 31st, 2021 with gates opening at 8 a.m. EST every day.

Car Auction: Friday (10/29) & Saturday (10/30)
Swap Meet: Thursday (10/28) through Sunday (10/31)

Featured vehicles include - 1978 Lincoln Chassis - The Gotham Cruiser, 1931 Ford Model A, 1941 Cadillac Fleetwood 60S, 1962 Ford Thunderbird, 1969 Chevrolet Corvette, 1979 Clenet Series, 1987 Zimmer Quicksilver, 1973 Dodge Charger, 1972 Dodge Challenger and much, much more!!

For more information click on the image above or go to www.zhillsclassiccarauction.com. For questions call (727) 233-9799.
Event Details
Where:

2738 Gall Blvd.




Zephyrhills

,

FL

33541

When:

Oct 28, 2021

-

Oct 31, 2021

Our event will run October 28th – 31st, 2021 with gates opening at 8 a.m. EST every day.

Event Organizer:

Dealer Auction Xchange

Website: