RV Auctions
Find RVs for sale at auction
Volo Auto Museum TV & Movie Car and Memorabilia Auction
Where:

27582 Volo Village Rd, Volo, IL 60073, USA

When:

Aug 18, 2018 - Aug 24, 2018
Starting September 19th @ 10 am CST, all online. Must have eBay account.
Our eyes are bigger than our stomach! We have amassed a museum collection larger than we have room to display. We will be selling off many museum items including desirable TV & Movie cars, Vintage tractors, snowmobile and other historic museum exhibits. All items will be sold no-reserve, on-lin...
More Info ›
Vicari Auction-New Orleans
Where:

4545 Williams Blvd, Kenner, LA 70065, USA

When:

Aug 23, 2018 - Aug 24, 2018

Fall Auburn
Where:

5536 Co Rd 11A, Auburn, IN 46706, USA

When:

Aug 29, 2018 - Sep 01, 2018

11th Annual Auburn Auction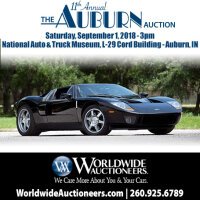 Where:

1000 Gordon M Buehrig Pl, Auburn, IN 46706, USA

When:

Aug 31, 2018