RV Auctions
Find RVs for sale at auction
Enter Today and You Could Win this Awesome 2020 Shelby GT500!
Where:

5020 Chaparral Ct, Boulder, CO 80301, USA

When:

Oct 29, 2019 - Sep 05, 2020

Enter to win this 760hp 2020 Shelby GT500 from the Shelby American Collection You've got a chance to win a rare 2020 760 hp Shelby GT500 – a true collector's car! This Shelby GT500, in stunning Ford Performance Blue, is loaded with all the GT500 performance features including the Carbon Fiber Tra...
More Info ›
U.S. Treasury Exotic Sports Car Auction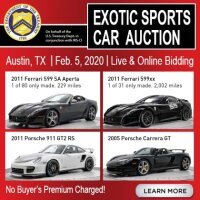 Where:

9201 Circuit of the Americas Blvd, Del Valle, TX 78617, USA

When:

Feb 05, 2020 Preview - 4:00 to 6:00 PM Auction starts - 7:30 PM in Event Center A
Live & Simulcast Bidding Auction on Behalf of the U.S. Treasury Department
More Info ›
GAA Greensboro Auto Auctions
Where:

301 Norwalk St, Greensboro, NC 27407, USA

When:

Feb 27, 2020 - Feb 29, 2020
Auction Schedule Thursday 8:00am: Gates Open 11:30am: Badged bidders, sellers, and their guests: Complimentary lunch provided by Longhorn Steakhouse 1:00pm: Auction starts with 30-40 pieces of classic memorabilia followed by 190 vehicles. Friday 8:00am: Gates open 10:00am: Auction starts offering 265 vehicles. Saturday 8:00 am: Gates Open 10:00am: Auction starts offering 185 vehicles.
OPEN TO THE PUBLIC! GENERAL ADMISSION: $20 per person per day (Children under 5 are free) FREE PARKING: Over 2,000 spaces! (For safety reasons no strollers or pets allowed. No outside food or coolers are allowed.) Address: 301 Norwalk Street, Greensboro, NC 27407 Phone: 1.855.862.2257 AUC...
More Info ›