RV Auctions
Find RVs for sale at auction
Live Auto Auctions Online Everyday!!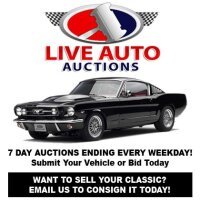 Where:

6576 34 Rd, Cadillac, MI 49601, USA

When:

Oct 11, 2017 - Dec 30, 2017

ClassicCarDeals.com is now presenting LiveAutoAuctions.com Who are we? Well we are company that takes Online Auctions Seriously. We are someone who will put honesty and integrity back into online auctions. A company that will strive to get you top dollar for your car. And a company that will pro...
More Info ›
Winter 2017 Raleigh Classic
Where:

1025 Blue Ridge Rd, Raleigh, NC 27607, USA

When:

Dec 07, 2017 - Dec 08, 2017