RV Events
Find events for RV enthusiasts like you
Ronald McDonald House Presents Win this 67 Corvette String Ray!!
Where:

9161 Randall Way, Madera, CA 93636, USA

When:

Mar 25, 2021 - Dec 07, 2021

Win this 67 Corvette Sting Ray! It doesn't get much better in the Corvette world than this! This stunning 1967 Corvette features its numbers matching 427 CI V8 engine, numbers matching Muncie 4-speed manual transmission and its date correct 3.55 positraction rear end. It also comes with its or...
More Info ›
St. Jude the Apostle Raffle - 2021 Corvette Stingray 1LT
Where:

2801 W 6th St, Los Angeles, CA 90057, USA

When:

Sep 29, 2021 - Dec 24, 2021
The drawing is to be held this Christmas Eve, DEC 24th, 2021.
You Could Win a 2021 Corvette Stingray 1LT - FROM SAINT JUDE the APOSTLE, ERIE, PA!!
More Info ›
Rotary Club of Fenelon Falls - 1971 Plymouth GTX Raffle
Where:

27 Veterans Way, Fenelon Falls, ON K0M 1N0, Canada

When:

Oct 04, 2021 - Jul 01, 2022
The final draw is July 01, 2022 at 4:00pm in front of The Kawartha Store, Fenelon Falls, Ontario
Your chance to win a 1971 Plymouth GTX with a 440 Automatic transmission!!
More Info ›
National Sprint Car Presents Win this the 2022 IMSA GTLM Championship Edition C8.R Corvette- Only 1000 Produced!!!
Where:

1 Sprint Capital Place, Knoxville, IA 50138, USA

When:

Oct 07, 2021 - Aug 13, 2022

Donate Today for a Chance to Win this 2022 Limited Edition Corvette C8.R Chevrolet is only building 1,000 2022 IMSA GTLM Championship C8.R Corvettes and you've got a chance to bring one home in Hypersonic Gray with the Z51 performance package and the 3LT trim package. The 2022 Corvette Stingray, ...
More Info ›
WGTE Raffle - $100,000 for the Car of your Dreams!
Where:

1270 S Detroit Ave, Toledo, OH 43614, USA

When:

Oct 14, 2021 - Dec 03, 2021
Grand Prize drawing will be December 3rd, 2021.
Bad Boy Giveaways - Homes for our Troops!!!
Where:

2745 Power Mill Ct, Tallahassee, FL 32301, USA

When:

Nov 03, 2021 - Dec 31, 2021
Drawing will be held at Trans Am Depot of Tallahassee - 12/31/2021
To enter the drawing, simply head on over to our ticket section and choose how much you would like to donate. In turn, you will receive a set amount of entries into the drawing. Join us for this once-in-a-lifetime opportunity to support a great cause and have a chance to win this exquisite r...
More Info ›
WIN A 1963 CORVETTE STING RAY FUELIE!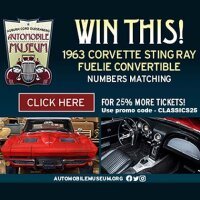 Where:

1600 Wayne St, Auburn, IN 46706, USA

When:

Nov 16, 2021 - Dec 28, 2021
Drawing will be held at the museum on Dec. 28th, 2021 at 5:00PM
1963 Riverside Red (original paint) matching numbers Corvette fuelie convertible Sting Ray!!
More Info ›
Gasparilla Concours d'Elegance
Where:

5300 W Lutz Lake Fern Rd, Lutz, FL 33558, USA

When:

Dec 03, 2021 - Dec 05, 2021
Friday - DEC. 3rd, 6pm to 9pm Saturday - DEC. 4th, 9:30am to 4pm Sunday - DEC. 5th, 9am to 1pm
Celebrating 100 Years of Automotive Excellence with a full weekend of activities!
More Info ›
NSRA Presents 34th Annual Southeast Street Rod Nationals
Where:

When:

Dec 03, 2021 - Dec 05, 2021

2021 SOUTHEAST STREET ROD NATIONALS ALL VEHICLES OF 1991 AND EARLIER MANUFACTURE ARE WELCOME TO ENTER THE EVENT.
More Info ›